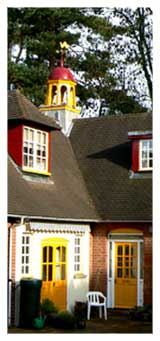 About Lam Rim Buddhist Centre
For nearly 40 years Lam Rim Buddhist Centre, as a registered charity, has been helping people to find a fresh perspective on everyday life. We are located deep in the beautiful Monmouthshire countryside overlooked by the Black Mountains, yet within easy reach from motorway routes.
Our founding Spiritual Director, Venerable Geshe Damcho Yonten lived with us for many years offering teachings from the Nalanda University Tradition in the theory of Mahayana Buddhism together with meditation practices. Our Centre hosts on-going visits from renowned Buddhist Masters. We offer regular residential retreats, conferences and workshops.
The Lam Rim Buddhist Centre represents the Buddhism of the Great Vehicle (Mahayana), the form of Buddhism which was prevalent in Tibet, China and Japan. The concern of Mahayana Buddhism is with altruistically developing the path to full Buddhahood, absolute perfection of wisdom and compassion, for the benefit not only of human but of all sentient beings.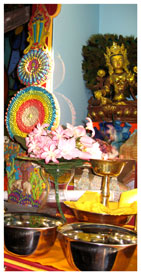 We pray that the work of our Dharma Centre will continue, all sentient beings will attain to happiness and true fulfilment, and that the high aims and aspirations of our Centre will flower in the lotus-blossom of perfect enlightenment.
We dedicate our efforts to the long life of His Holiness the Dalai Lama, our Precious Teachers, and for the benefit of all living beings.
You can find our
programme here
and also find a little about
who we are
.