Welcome to Lam Rim Buddhist Centre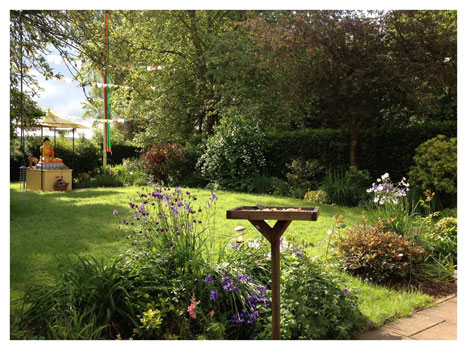 This site was last updated February 2016
Lam Rim Buddhist Centre is a registered charity no 326675 and is the founding centre for all of the
group of Lam Rim Buddhist Centres
We are a retreat centre located in the beautiful countryside on the Welsh/English borders in Monmouthshire.
We embrace Buddhist principles and values, while providing quality facilities, enabling people to experience more fulfilling ways of living within a peaceful and harmonious environment. Lam Rim Buddhist Centre is open to anybody who is interested in visiting.
So we start our Spring/Summer Programme for 2016. We hope you will find the programme exciting and varied. We have tried to include opportunities for anyone to come and join us and we look forward to meeting you.
We have just received news that HH is giving Teachings in Minnesota USA to the Tibetan community – Feb 21. There are approximately 3,000 Tibetans living there, so it is such a joyous occasion for them and for us too. Please continue to recite the Heart Sutra and Long Life Prayers for His Holiness on a daily basis. His Holiness will start his Teaching programme in USA in March and if you visit on-line
www.dalailama.com
you can click on to his Teaching schedule and Web casts
Ven Geshe Samten-la has returned to Drepung Loseling Monastery and sends us all many prayers and a Big Thank You for the memorable times he shared with Lam Rim Buddhist Centre, Lam Rim Bristol Centre and Lam Rim South Africa on his visit. Ven Geshe Samten-la says his misses the Centres, and requests we all take great care of Ven Geshe Damcho-la, as we are so fortunate to have him still with us, putting so much energy into meditating, studying, comforting and guiding us, together with working in the gardens. Geshe Damcho-la will by 86 year in March. Geshe-la says it really is amazing, he never thought he would reach such an age. Long may he continue. At the Centre we chant Long Life Prayers for His Holiness the Dalai Lama and Long Life Prayers for Ven. Geshe Damcho-la – morning and evening in addition to our other practices.
We are introducing regular GARDENERS' OFFERING DAYS HELP REQUIRED. An opportunity to offer your skills and expertise. Geshe Damcho-la has said it is so important to keep the gardens well cared for and attractive as this can calm and soothe our minds when we sit and reflect on the transient nature of all things.
Click on
March
for further information & dates.
Revised dates for Geshe-la's teachings. For more details Click Here
To see our Spring Summer Program Click Here
To view accommodation available and costs click here
Please support us - to donate online click here
Contact Details
The Co-ordinator
Lam Rim Buddhist Centre
Pentwyn Manor
Penrhos, Raglan
Usk, Monmouthshire
NP15 2LE
Tel: 44(0)1600 780383
To email click
here
Registered Charity No. 326675
Please support us - to donate online click here
You can also use the tabs at the top of the page to explore the website.






MOST OF THE PICTURES ON THIS WEBSITE HAVE BEEN TAKEN ON LOCATION AT LAM RIM BUDDHIST CENTRE.